Travel Notice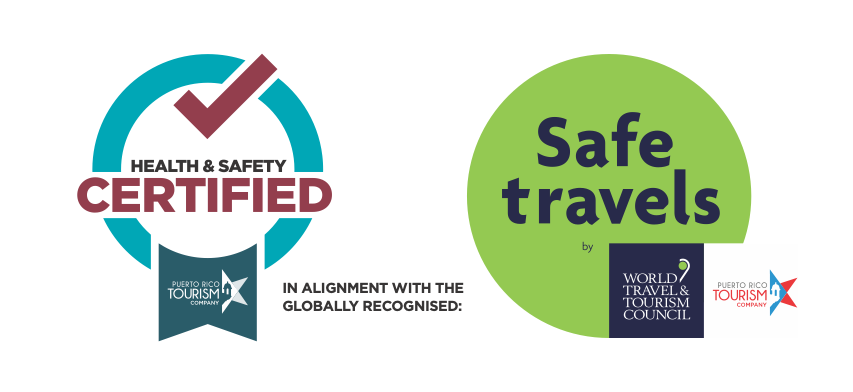 Fully vaccinated travelers entering Puerto Rico on domestic flights are permitted to present their vaccination card instead or a negative COVID-19 PCR molecular or antigen test taken no more than 72 hours prior to visiting the Island. Passengers will also be required to present identification to ensure alignment with the information entered on the Travel Declaration Form. Passengers arriving on international flights and those who have not been fully vaccinated must present a negative test taken within the last 72 hours (digitally or printed). In addition, effective August 16, 2021, all visitors to the resort must present either evidence that they are fully vaccinated against COVID-19 with an FDA-approved vaccine or a negative COVID-19 test taken within the last 72 hours, and must resubmit to these protocols every 7 days including children over two (2) years of age.
A person is considered fully vaccinated two (2) weeks after the second dose was administered for the Pfizer or Moderna vaccines, or two (2) weeks after receiving the only dose of the Johnson & Johnson vaccine.  Failure to comply with the testing or to present the vaccination card during the arrival process will result in the cancellation of your reservation and denial of entry to the resort. Failure to resubmit to these protocols every 7 days will result in the cancellation of the remainder of your reservation and the denial of any further entry to the resort. Any deposits or prepayments will be refunded. 
Arriving travelers can access the Travel Declaration Form at www.travelsafe.pr.gov or www.viajaseguro.pr.gov
Face coverings are required in all indoor spaces, regardless of vaccination status. Those not vaccinated or between the ages of 2 and 11 must also wear masks in public areas when unable to social distance. The face mask is required in outdoor spaces when there are 50 people or more in the same area, or individuals will be subject to a fine. The Department of Health has increased resources to ensure travelers are abiding by local guidelines. Travelers who do not comply with the orders and the local measures imposed by the Department of Health will be fined up to $5,000 for the first offense and up to $10,000 for additional offenses.
For travelers who are not fully vaccinated, arriving without a negative PCR or antigen test taken within 72 hours of arrival a $300 fine will be imposed on all travelers and mandatory quarantine must be observed. However, the $300 fine will be dismissed to those travelers who submit the negative molecular test results within the first 48 hours after arrival on the island. Otherwise, the $300 fine will come into effect after the maximum of 48 hours have expired.
Please note that the Executive Orders / Administrative Orders relevant rules may change with little or no advance notice. We will endeavor to communicate any relevant changes to our guests as soon as possible. For more information about Puerto Rico's travel guidelines please visit www.discoverpuertorico.com.
Please feel free to email us at reservations-riomar@wyndham.com or call us at 787-888-6000 and ask for the manager on duty if you have any questions regarding this matter. We look forward to welcoming you to the resort while maintaining and following all health and travel advisories required by Puerto Rico's Executive Orders.
Please reference the documents below for assistance with understanding the steps being taken to address COVID-19 and what to expect during your stay.